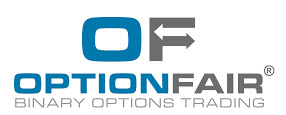 Launched back in 2010, OptionFair is a popular and well-established binary options broker online.
The platform is available in several different languages, including English, German, French, Spanish, Italian, Turkish, Arabian, and Japanese.
A negative aspect of OptionFair is the 200 USD minimum deposit.
The owner of OptionFair also owns the 24Option site. The company is based in the British Virgin Islands, but operates with a license from the Cyprus Securities Exchange Commission (CySEC).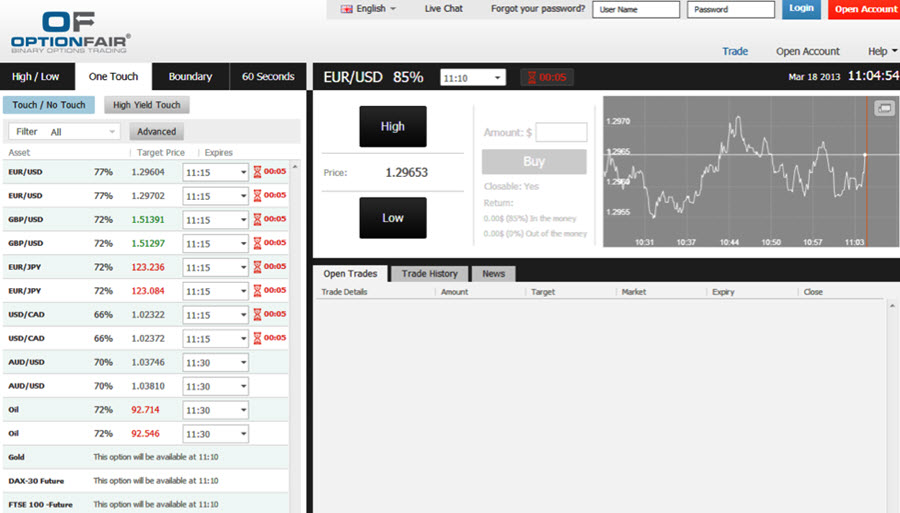 Bonus
OptionFair runs time-limited bonus campaigns for welcome bonuses, loyalty bonuses, and more. The terms and conditions vary, but you will usually be required to make a first deposit of 250 USD or more to get any welcome bonus.
Campaigns with "risk free" purchases are common. If you lose your money, you get them back from OptionFair – but in the form of bonus money that can't be withdrawn until certain conditions have been fulfilled.
Sometimes, OptionFair runs extra payout campaigns. Example: Deposit 500 USD and get a 50% deposit bonus + 1% extra payout on all binary options during the campaign.
Account types
When there is a queue to the OptionFair support, VIP account holders are helped first, then Platinum account holders, and so on. Standard account holders receive no priority.
Standard account
If your first deposit to OptionFair is less than 500 USD, you will start out with a standard account.
Silver account
If your first deposit to OptionFair is in the 500 USD – 1,999 USD span, you will get a silver account. This will give you silver account perks, including 1% extra payout on all binary option payouts.
Gold account
To start out with a gold account at OptionFair, your first deposit must be within the 2,000 USD – 14,999 USD span. You get access to gold account perks, including 2% extra payout on all binary option payouts.
Platinum account
The platinum account is your starting point if your first deposit to OptionFair is within the 15,000 USD – 49,999 USD span. You get access to all the great platinum account perks, including 4% extra payout on all binary option payouts.
VIP account
A 50,000 USD deposit is required if you want to start out with a VIP account from scratch at OptionFair.
If you are a large-volume trader, you can get upgraded to a VIP account later. The decision to upgrade is made on an individual basis.
With a VIP you get amazing VIP perks, including 6% extra payout on all binary option payouts.
Trading platform
The trading platform at OptionFair works well and is easy to use.
Mobile trading
Mobile OptionFair trading apps are available for iOS and Android. You can download the iOS app from Apple's App Store, and the Android app from Google Play.
Binary option types
Examples of binary option types available at OptionFair are Up/Down, Range and One Touch.
Some of the binary options give huge payouts when they expire in the money, e.g. 500% payout or even more.
Lifespan
The binary options with the shortest lifespan at OptionFair expire 30 seconds after being purchased. There is also a pretty good selection of 1 minute long binary options available for us who like super-short binary options. Of course, OptionFair also sells binary options with medium long to long life spans.
For most binary options at OptionFair, you can elect to close your open position prior to the binary option expiring.
Underlyings
The largest category of underlyings at OptionFair is the share category, followed by the currency pair category. The categories for indices and commodities are considerably smaller.
Examples of shares available as underlyings
Amazon.com, Inc
American Express
Apple Inc
AXA
Baidu, Inc.
Banco Bilbao Vizcaya Argentaria
Barclays PLC
BNP Paribas
British Petroleum PLC
Citigroup Inc
Coca-Cola Company
Exxonmobil
Facebook
Fiat
France Telecom
Google Inc
IBM
ICICI Bank Limited
JPMorgan Chase & Co.
McDonald's Corporation
Microsoft Corporation
Nike, Inc.
OAO Gazprom
Société Générale S.A
SONY
Sumitomo
Tata Motors Ltd
Telefonica
Vodafone Group Plc
Examples of currency pairs available as underlyings
AUD/JPY AUD/USD
CAD/JPY
EUR/CAD
EUR/CAD
EUR/GBP
EUR/JPY
EUR/NOK
EUR/TRY
EUR/USD
EUR/ZAR
GBP/JPY GBP/USD
NZD/USD
USD/CAD USD/CHF
USD/JPY
USD/NOK
USD/RUB
USD/TRY
USD/ZAR
Examples of indices available as underlyings
Dow Jones-30 Future
Nasdaq-100 Future
S&P-500 Future
S&P CNX Nifty-Future
FTSE-100 Future
IBEX-35 Future
CAC-40 Future
SMI-Future
Tadawul
Tel-Aviv 25
ASX-200 Future
Nikkei-225 Future
Hang Seng Index
Examples of commodities available as underlyings
Coffee
Maize
Gold
Gold/EUR
Gold/JPY
Gold/Silver
Silver
Copper
Crude oil
Banking
Minimum deposit: 200 USD
Examples of accepted transaction methods: Bank transfer, VISA, MasterCard, Maestro, Western Union, WebMoney, Neteller, Skrill, CashU