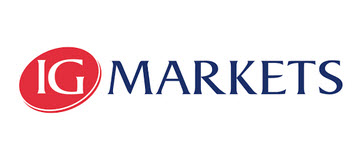 IG Markets is trading site focused chiefly on binary options and Contracts for Difference (CFD). The trading platform is available in many different languages.
A negative aspect of IG Markets is how there are no shares available as underlyings for binary options. Instead, only indices, currency pairs and a few commodities are available as underlyings for binary options on this trading platform.
The company IG Markets was founded back in 1974, long before the advent of online trading. It is today a large and well-established corporation; it is even one of the components of the FTSE 250 index. (This index consists of 250 very large corporations in the United Kingdom.)
The online trading part of IG Markets is run by IG Markets Ltd, a company authorized by the UK Financial Conduct Authority. For some markets, the operations are run by local subsidiaries to comply with local legal requirements. The Swedish-language branch of IG Markets online is for instance run by a Swedish subsidiary authorized by the Swedish Financial Conduct Authority.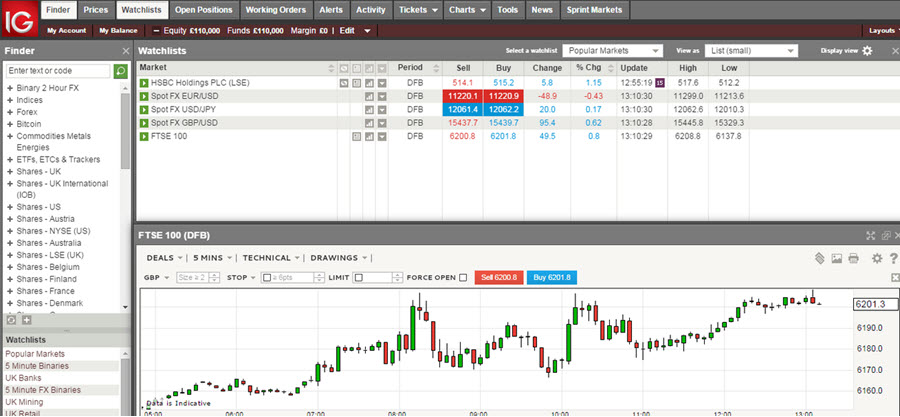 Bonus
IG Markets have no welcome bonus.
VIP clients get special VIP bonuses.
Available account types
There are three different account types at IG Markets: Demo account, Standard account and Premium account.
The demo account allows you to explore the platform without risking any real money. You don't even have to do a first deposit to sign up for a demo account. You get 10,000 in play money to make play trades on the platform. It's a great way of learning how the platform works and test various trading strategies.
Most real-money traders at IG Markets have a standard account.
The premium account is only available to high-volume traders. Each individual trade doesn't have to be big, but you must turn over a substantial sum each month to be considered for a premium account. (In some cases, you can get a premium account right from the start by making a large enough 1st deposit. Contact the support for more information.)With a premium account, you get access to special perks such as VIP broker service, marketing analytics, bespoke financial solutions, and more.
The trading platform
IG Markets have their on proprietary trading platform that was developed for them only.
The trading platform is available in your browser. There is no downloadable client.
The platform isn't just for trading in binary options; you can trade in other instruments here as well, such as CFDs. Because of this, it can take a bit longer to fully comprehend the platform compared to platforms selling binary options only. But don't worry, you can always start out with a free no-deposit demo account and play around on the platform for a while before you start risking any real money.
News
Market news are continuously shown in the platform.
Technical analysis
Tools for technical analysis as well as educational material about technical analysis is included in the platform. You can try out approximately one hundred different indicators. Signals, warnings and market analysis are available.
Apps for mobile trading
IG Markets have apps for Android, iPhone, iPad and Apple Watch. The trading app for Android can be downloaded from Google Play. The trading app for iOS is found in Apple's App Store.
Binary option types
Examples of binary option types available at IG Markets:
High/Low
Up/Down
Over/Under
Steps
Tunnel
Touch
Lifetime
The shortest lifespan for binary options at IG Markets is 2 minutes from purchase, while the longest is 1 month from purchase.
Short-term binary options (60 minutes or less) are available from 20 EUR. Longer term binary options can be purchased for 6 EUR and upwards.
Closing an open position before the binary option expires is possible.
During special campaigns, binary options with special terms and conditions can be offered.
Underlyings
At the time of writing, shares are not available as underlyings for binary options at IG Markets. The largest section of underlyings is the indices section. IG Markets is one of the very best online brokers for anyone who wants to trade in binary options with indices as underlyings. Currency pairs and a few commodities are also available as underlyings for binary options here.
Examples of indices available as underlyings
European indices
Swiss Blue Chip
Germany 30 – terminer
FTSE 100
France 40
Netherlands 25
Italy40
Sweden30
Spain35
Asian indices
China A50
Japan225
Japan All-Share
China 300
H-Shares China
Hong Kong
India50
Singapore Blue Chip
North American indices
USA Tech100
Wall Street
USA500
Other indices
Australia 200
South Africa 40
Examples of commodities available as underlyings
Examples of currency pairs available as underlyings
AUD/JPY
AUD/USD
EUR/GBP
EUR/JPY
EUR/USD
GBP/JPY
GBP/USD
USD/CAD
USD/CHF
USD/JPY
The binary options with the longest lifespan on IG Markets are usually binary options with currency pairs as underlyings.
Banking
Minimum deposit: 215 Euro
Examples of available transaction methods: Bank transfer, VISA, MasterCard
Withdrawals: Withdrawals through VISA or MasterCard are usually quicker than bank transfers from IG Markets. Bank transfers normally take up to 5 days.