Founded by PEAK6 Investments, Optionhouse is a low-commission brokerage firm utilized chiefly by options traders, but Optionhouse also offers stock trading and features ETF and mutual fund vehicles, plus a few other prodcuts. Several retirement account vehicles are available at this SIPC insured brokerage and money management firm.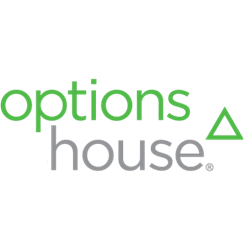 At Optionhouse, the costs are low and the platform very simple. Some see it as too basic, while others love the no-nonsense approach.
If you are a novice in need of a lot of hands-on guidance, we do not recommend Optionhouse because they are a low-cost broker and not a full-scale broker, and they do assume that their clients will have at least intermediate trading experience or be willing to learn the basics on their own without Optionhouse staff guiding them every step of the way.
If you are looking for low commissions and a very transparent price model (no hidden fees that sneak up on you), Optionhouse is an excellent choice. There are no maintenance costs, balance requirements or minimum trading requirements. A lot of experienced traders are attracted to Optionhouse for these reasons, even traders that are so large and active that they would qualify for special perks at a more traditional full-scale brokerage firm.
Examples of available features at Optionhouse:
Streaming charts & news
Profit and loss probability calculator
Stock screener
Option specific tools
Virtual program where you can practice paper trading and back test yourself.
Costs
Stocks: Flat rate commission is $2.95 per stock trade.
Options: Flat rate commission is $9.95 per option leg for trades involving 10 contracts or less. For trades involving 11 contracts or more, the cost is $8.50 + $0.15/contract.
Optionhouse set them selves apart from the herd by not adjusting the costs for options trades based on your account value or on how many trades you do per year or quarter. You can enjoy their competitive rates even if you are a small-scale trader.