Launched in 2014, Option888 is a comparatively new addition to the binary option world online. Its available in several different languages, including English, French, German, Italian, Swedish, Danish, Norwegian, and Finnish. Also, several different currencies are available for account keeping. The ability to keep your account in Swedish, Danish or Norwegian currency instead of major currencies such as EUR or USD has made Option888 especially popular in the Nordic countries.
Option888 distinguishes itself by offering two cryptocurrencies as underlyings for binary options. This is unusual and makes it possible for traders to gain exposure to cryptocurrencies without actually having to own any cryptocurrency.
A negative aspect of Option888 is that a €500 (or equivalent) first deposit is required to get the 100% first deposit bonus.
Option888 is owned by Altair Entertainment N.V, a company based in Curaçao in the Caribbean and licensed by Curaçao. The head office is on Malta in the Mediterranean.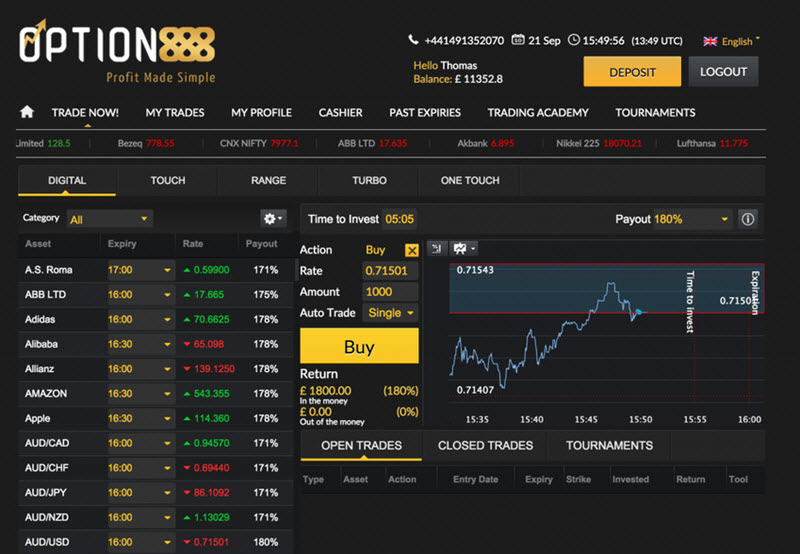 Bonus
Your first deposit to Option888 must be at least €500 for you to get a welcome bonus. The welcome bonus is 100% of the deposit, up to a maximum of €888.
Available account types
Demo Account
You can't do real-money trades in a demo account, only play-money trades. The demo account is a great way to learn the platform and try out trading strategies before you proceed to a standard account.
Standard Account
The standard account is for real-money trades at Option888. You must do a first deposit before you can start using your standard account.
The trading platform
Option 888 use a trading platform from highly regarded Tradologic. The platform is browser-based; no downloadable platform is available.
The platform is very sleek and minimalistic – almost overly so since there is no ticker showing news, trends, signals, etc. Finding ones way is very easy since there are no frills to distract.
You start by selecting underlying and binary option type. You will now see all available binary options that fit both criteria. A graph will be displayed on screen where you tailor and fine-tune your binary option to suit your preferences. When you're ready, finishing the trade is quick and simple.
Mobile trading
Option 888 offers mobile trading apps for iOS and Android. The Android app is found in Google Play and the iOS app is in Apple's App Store. The app works well on both phones and tablets.
Binary option types
Examples of binary option types available at Option 888 are Over/Under, Range and One Touch.
Lifespan
The binary options with the shortest lifespan at Option 888 are called Turbo. Turbo binary options are available with a lifespan of 30 seconds, 45 seconds, 1 minute, 2 minutes, or 5 minutes.
Close
You can close an open position before the binary option has expired by selecting Close.
Extend
You can extend the lifespan of a binary option that you already own by selecting Extend.
Underlyings
888 Option has a large selection of shares, currency pairs, commodities and indices as underlyings. This broker is a great choice for traders that want to have a lot of underlyings to chose from.
The share selection isn't just large (160+ share companies) it is also geographically diverse, including shares traded on exchanges around the globe. You can for instance pick Severstal, Lufthansa, Ferrari, First International Bank of Israel, Abu Dhabi General, Tata Consultancy, Taiwan Mobile, Luzhou Lao Jiao, Facebook, or Tesla Motors as underlying.
The large selection of indices is also geographically diverse, and contains indices such as EGX Cairo, South Africa 40, Nikkei 225, Dow Jones, Bovespa Future, Dubai General, FTSE 100, and Tel Aviv 25.
The assortment of available commodities contains both metals, e.g. gold, silver, led, nickel, platinum and palladium, and agricultural produce such as coffee, maize, soy beans, wheat and sugar.
888 Option's selection of currency pairs isn't just big – it also contains two crypto-currencies. This means that you can gain exposure to Bitcoin and Litecoin without actually having to own any crypto-currency.
Examples of shares available as underlyings at 888 Option
3M
A.S. Roma
ABB LTD
Acer
Adidas
Agricultural Bank of China Ltd
Akbank
Alcoa
Alibaba
Allianz
Aluminum Corp of China Ltd
Amazon
Apple
Aviva
Avner Oil Exploration
Baidu
Bank Hapoalim
Bank of China Ltd
Barclays plc
Bayer AG
BB&T
Beiersdorf
Best Buy
Bezeq
Bharti Airtel
BHP Billiton
Blackrock
BMW
Boeing
Borussia Dortmund
BP
British Sky Broadcasting
Cannabis Sativa
Capital One
Capitaland
Caterpillar
Celtic F.C.
China First Heavy Industries
China Merchants
China Minsheng Banking Corp Ltd
China Pacific Ins.
China Petroleum & Chemical Corp
China United Network Communications Ltd
Chipotle Mexican Grill
Cisco
Citic Securities
Citigroup
Coal India
Coca Cola Co
Colgate-Palmolive
Commerzbank
Daimler
DBS Group Holdings
Delek Drilling
Delek Group
Delta Electronics
Deutsche Bank
Deutsche Telekom
DLF Limited
eBay
Elbit Imaging
Elbit Systems
Electronic Arts
Eli Lilly
Erdemir
Exxon Mobil
F & N
F.C. Porto
Facebook
FedEx
Fenerbahce
Ferrari
Finmeccanica
Fitbit
Galatasaray
Garanti Bank
Gazit Globe
Gazprom
GD Power Development Co Ltd
General Electric
Genting SP
GF Securities Co Ltd
Google

Haitong Securities Co Ltd
Home Depot
HSBC
HTC
IBM
IDFC Ltd
Industrial Bank
Infineon Technologies
Infosys
ING group
Intel
ISBank
iShares EEM
Isramco Negev
JPMorgan
Juventus F.C.
Kardemir
Kweichow Moutai Lendingclub
LinkedIn Lufthansa
Lukoil
Luxottica
Luzhou Lao Jiao
Manchester United
Mastercard
McDonald's
Melisron
Merck
Metallurgical Corporation of China Ltd
Microsoft
Migdal
Mizrahi Tefahot Bank
Morgan Stanley
Netflix
Nike
Norilsk Nickel
Opko Health
Osem Investment
PepsiCo
Ping An Insurance
Qassim Cement
Randgold Resources
RBS
Reliance Industries
Roche
Rosneft
Sandisk
SAP
Saudi Ceramic
Sberbank
Severstal
Shenzhen Develop.
Siemens
Sina
SingTel
State Bank Of India
Strauss Group
Taiwan Cement
Taiwan Mobile
Tata Consultancy
TCL Corp
Tesla Motors Teva
The First International Bank of Israel
ThyssenKrupp
Time Warner
Turkcell
Turkish Airlines
Twitter
UBS
UniCredit
US Steel
Visa
Vodafone Group
Volkswagen
Yahoo
Zte Corporation
Examples of indices available as underlyings at 888 Option
Abu Dhabi General
Bovespa Future
Bund future
CNX NIFTY
DAX Future
Dow Jones
Dubai General
EGX 30 Cairo
FTSE 100
FTSE MIB
Hang Seng 40
ISE 100
ISE 30
Kuwait 15
MDAX
MICEX

NASDAQ 100 Future
NASDAQ Composite
Nikkei 225
RTS index
S&P Future
Shanghai Composite
Shanghai Shenzhen CSI 300
South Africa 40
SPI 200 FUTURE
TADAWUL
TAIEX
Tel Aviv 25
Topix 500
Examples of commodities available as underlyings at 888 Option
Coffe
Sugar
Soy beans
Maize
Wheat
Gold
Silver
Copper
Platinum
Palladium
Copper
Crude oil
MCX Gold
MCX Silver
MCX Copper
MCX Led
MCX Nickel
MCX Aluminium
MCX Crude oil
MCX Natural gas
Please note: MXC stands for Multi Commodity Exchange of India Ltd, a commodity exchange based in Mumbai.
Examples of currency pairs available as underlyings at 888 Option
AUD/CAD
AUD/JPY
AUD/NZD
AUD/CHF
AUD/USD
Bitcoin/USD
GBP/AUD
GBP/JPY
GBP/CAD
GBP/CHF
GBP/TRY
GBP/USD
CAD/JPY
EUR/AUD
EUR/GBP
EUR/CAD
EUR/JPY
EUR/TRY
EUR/USD
Litecoin/USD
NZD/USD
CHF/JPY
TRY/JPY
USD/CAD
USD/JPY
USD/NOK
USD/RUB
USD/KRW
USD/SEK
USD/CHF
USD/TRY
USD/ZAR
Banking
Minimum deposit: 250 USD
Examples of available transaction methods: Bank transfer, VISA, MasterCard, Skrill (only deposits), Ukash (only deposits), Paysafecard (only deposits)
Withdrawals: Option888 are famous for their unusually quick processing of withdrawal requests.